Dob Software upgrade V3.6
I am really pleased to announce another update to the amazing
Dob Software
.
This latest update includes.
1. The ability to sort filter a number of fields (Soon to be expanded)


2. Y/C filter (See description below)


3. New colour code for ¼ drop in price during in-play.
Here is a video of the updates.
The latest Dob Software update video.

The new sort filter allows you to easily arrange selections within a race based on 9 different columns.


These include:
6 AM Price
11 AM Price
Dob Average (Highest first)
% Score (Highest first)
Y/C (Highest first)
B/R (Highest first)
Ticks (Highest first)
Dob P/L (Highest first)
BSP (Available when using history)
As an example, a dob software column may look like this before introducing a sort.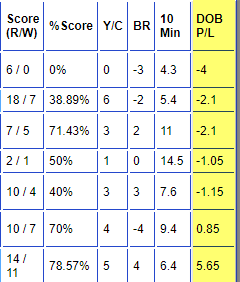 After using the sort it could like this.


Next...


Checking the values in the Y/C column is a fvourite of mine because to me this represents a usable figure that shows how a runner has performed under similar circumstances.
A figure of 5 or more is a good place to start.


This is why I have added the second update that now allows you to filter runners by their Y/C value.

This filter is directly related to the course, dist, RT, NOR, Going, Class, CD and Jockey columns which are added together and shown in the Y/C column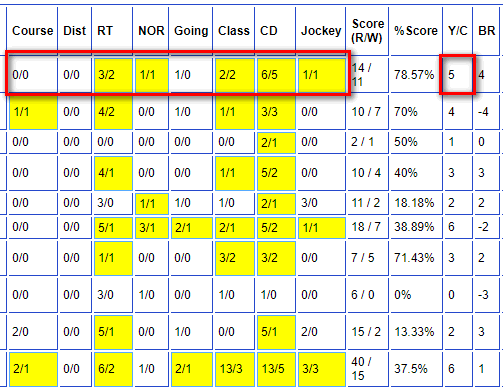 A cell turns yellow when it has Dobbed in a race with the same information.
So if this race is a class 4 then under the class column in the above example you can see that this horse has had 2 previous races in this class and Dobbed in both of them.
(Note: the "score (R/W)" column represents all 8 columns and the "% Score" as a percentage success rate.)


You will be surprised by just using this information alone you can find many successful Dobs per day.
The last update is a visual aid for when you look at the Dob History.


The dob software allows you to look back over past races and see the results…


…Including if the runner Dobbed.


This is shown as a yellow coloured cell.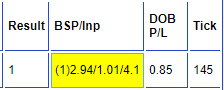 I have now added a second colour to show if a horses price dropped ¼ in play.


This is only shown if the horses priced didn't Dob.


Although the software is called "The Dob Software" it is more than capable of finding runners that will move by just a few ticks to a full Dob…


…In fact many members use it to give them a view of which horses could even win races.


The extra colour coding is just to help you identify when a runner has still performed well in-play.
In the above race, you can see most runners Dobbed.


But there were runners that didn't...But still managed to drop by 1 quarter of their BSP price in-play.


The continuing updates of the Dob Software must put it into a class of its own when it comes to helping you find runners that are likely to Dob (or just drop) in price in-play.


Watch out for future updates coming soon.


Until Next Time
Malcolm
The "Cash Out" Guy