Matched betting another form of Trading or...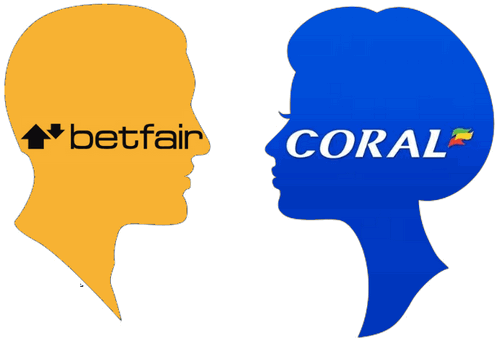 Matched betting another form of Trading or a good way to fund your Betfair account?
The idea behind trading is to try to make a profit by placing a bet on both sides of an event.
This will mean a back and lay bet on say the same horse or the same team or player but is also normally executed on the same platform.
So, we may use Betfair as our trading platform.
Matched bet followers generally use two platforms.


1. The bookies to place the back bet.
2. An exchange to lay off.


The idea of matched betting is to take advantage of free bet offers by creating a win-win situation.


Here is an example.


You can sign-up at Coral and get 4 x £5 bets free if you place a bet for £5 (at the time of writing Check their T & C's).


Once you get your account funded then you find a really low priced favourite to back.


When I did it:


I backed a runner at 1.61 (to be sure because min was 1.5) on Coral.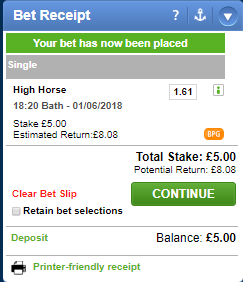 If I won on this bet I would make £3.08 or I would lose £5.00. In either case, I would still end up with 4 free £5 bets to use.

I then went to Betfair and Layed the same runner for 1.72 (I was hoping it would be less but was not really worried about
this bet because I wanted to the 4 free bets).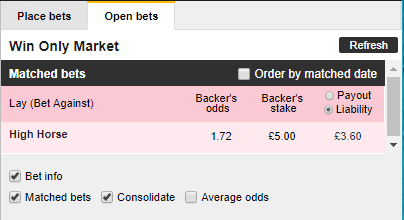 Which meant...


...My liability on Betfair was £5 x 1.72 (-1) = £3.60 if I lost but if I won I would make £5 minus 5% commission (£4.75).
Depending on the outcome of the race I would lose between 25p and 52p.
But I would gain the free bets :-)


Now a few things that are important before we go on.


According to Coral's T & C's (At the time of writing)…


1. You must fund your account using a Debit/Credit Card (Deposit from Neteller, Moneybookers, PayPal, PaySafe, Envoy, Skrill 1-Tap or Plus Do Not Qualify).


2. You must place your first £5 bet within 7 (sometimes longer) days of joining.


3. You must place the Bonus bets within 4 days of them being added to your account (normally).


4. You can not withdraw the bonus bet money you can only use it against other bets.
But you can withdraw any winnings from the free bets (or your own bet)…That's yours :-) (Again check T & C's they are important with free bets).
5. The runner must be trading 1.5 or higher.


Ok, now we have the free bets lets look at what we could do next.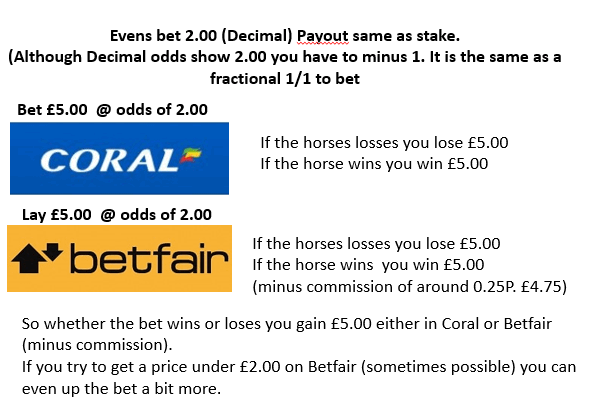 You could use another exchange. At the time of writing MatchBook are not charging commission and other exchanges charge less commission.
For me, as a Trader, the ideal scenario is to use the free bets as an insurance but try to win on Betfair rather than the bookies...
Why...
Well although it's easy enough to withdraw from the bookies I don't trust them...A sniff that you're up to something and they will limit your account.
Basically, you don't want to win too often!
I also want the money to use for trading as quickly as possible.
So, we want to find 4 selections that have a good chance of losing and we can afford to lay on Betfair (Or whichever exchange you use).
This is one thing that most people who promote matched betting don't talk about much…


…The cost of the lay side of the bet.


If I wanted to back a horse at 10/1 on Coral at £5 I would have to get as near to that as I could on the exchanges (11.00) which would cost at least £50 to lay.


The other thing that is not mentioned...
...Is that the higher the prices on the Bookies sites the less likely you will be able to get a similar bet on the exchanges because the prices can be so much higher.


At first (Unless you have a lot to fund your exchange account) you will probably want to lay lower priced selections.


My goal with these 4 bets was to fund my Betfair account they were an insurance in case I got it wrong.


To be honest I would much rather look like an average punter on Coral and give them back their money…


…Rather than start winning a lot and they shut or limit the account.


So, I just fired up
TTS
and looked at some runners in the 3 to 6 price range that looked suspect.
The beauty is there are quite a few bookies you can repeat this procedure with and many of them come up with bonuses all the time.


I suspect if you don't go mad and give the bookies some money now and then you're probably be ok to use the bonuses when they get offered.


Of course, you can do this with all sorts of markets as well I only use the horse racing market as this is one I know very well.
Although Matched Betting is not technically trading...
...From a traders point of view, it is as
because whatever happens you cant lose much on your initial bet and then you trade as normal on the rest.
If you are really clever you will look for opportunities where you can pay less for the lay bet but remember you only have about 4 days to make your bets!
If you want a source of lay selections then you could always use
LBS
.
Until Next Time

Malcolm